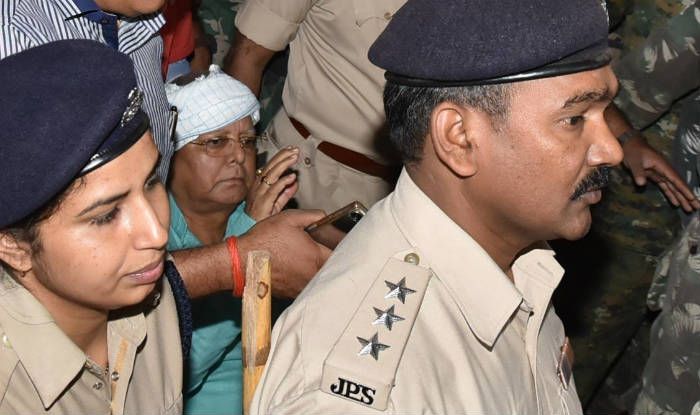 Despite his reputation as a colourful personality, the ailing Prasad is sticking to the conditions laid down by authorities at Birsa Munda Central Jail in Ranchi for granting him three days parole. "We granted him three-day parole after considering the need", said Jharkhand Inspector General of Police (Prison) Harsh Mangla.
Lalu's eldest son is getting married to daughter of former RJD minister and MLA Chandrika Rai at Patna.
Among the baratis included Akhilesh Yadav and his wife Dimple Yadav, Union Minister and LJP Chief Ram Vilas Paswan, local MP and dissident BJP leader Shatrughan Sinha, veteran lawyer Ram Jethmalani, former Union Ministers Prafull Patel and Tariq Anwar, yoga guru Baba Ramdev. With the political heavyweights descending to Patna for blessing Tej Pratap, the uncommon sights and sounds will surely be highlighted. With a reported guest list of about 10,000 people and cooks flying in from all parts of the country to make their services of use, the wedding ceremony of the former health minister of Bihar has lapped up the limelight more efficiently than expected. However, only two chartered planes had landed in Patna by late Saturday afternoon. Congress president Rahul Gandhi and his sister Priyanka Gandhi Vadra, however, did not attend the wedding.
#05:00 PM: Celebrations are in full-swing outside RJD chief Lalu Prasad Yadav's residence: The members of nagada team, led by Durga Mahli are performing outside the home.
The wedding is to take place in Patna on May 12. In Prasad' s native Phulwaria block in Gopalganj district, his nephew Ramanand Yadav said that they had received an invitation and so have many others in the village.
Ram Das and Dayanand Pandey, both priests at local temples, said they were going to the wedding. Governor Satyapal Malik also congratulated Lalu family.