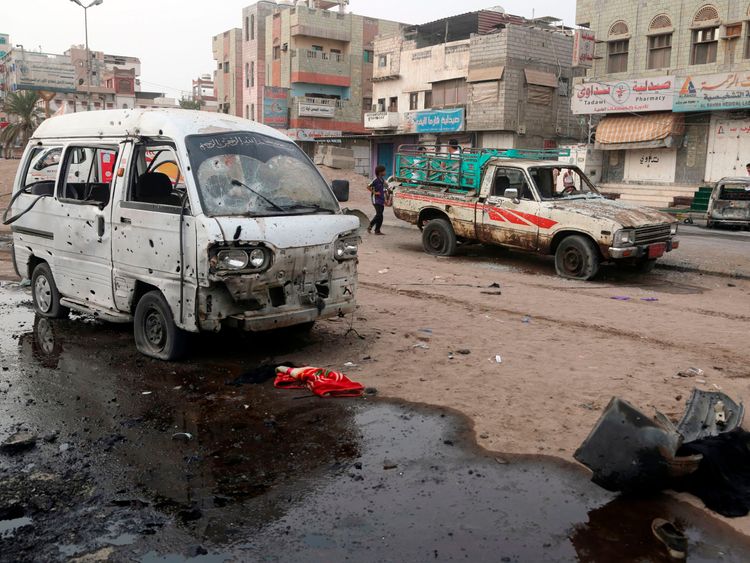 Saudi-led coalition air strikes on Thursday killed dozens of people, including children traveling on a bus through a market, in Yemen's Saada province, a Yemeni health official and the International Committee of the Red Cross (ICRC) said.
The International Red Cross says the airstrike hit a bus full of children, parked in a busy market in Dahyan, in Sa'ada province - controlled by the Houthis.
The ICRC said in its tweet: "Under worldwide humanitarian law, civilians must be protected during conflict".
State Department spokeswoman Heather Nauert said USA officials can't confirm all the details about the attack, but are concerned about reports of civilian deaths.
Saudi Arabia, the United Arab Emirates and their allies intervened in the conflict the following March, aiming to push back the Houthis and restore the internationally recognised government to power.
The missile was sacked from Amran province in northern Yemen on Wednesday night, the coalition said in a statement published by the Saudi Press Agency.
The coalition said Wednesday's attack brought the tally of rebel missiles launched since 2015, the year it joined the Yemeni government's fight against the rebels, to 165.
In a statement Thursday, the Saudi-led coalition said the strike was a "legitimate military action to target elements that planned and carried out" an attack that targeted civilians in Jizan, a border city in southwest Saudi Arabia.
In response, Houthi spokesman Mohammed Abdulsalam called the coalition statement "absolutely ridiculous".
The Red Cross, however, confirmed that "scores" of children were killed, saying that most of the victims were under the age of 10. He also accused the Houthis of recruiting children and using them in the battlefields to cover for their actions.
"No, this is not children in the bus", he said.
Houthi media broadcast gruesome footage appearing to show the dead bodies of children.
Reporters at the scene said it was unclear why the bus was targeted, noting that there are no military installations anywhere near the market.
"US military support to our partners mitigates non-combatant casualties", said Pentagon spokeswoman Rebecca Rebarich, according to the statement.
Reuters reported that the militants have fired dozens of missiles into the kingdom in recent months, often intercepted by Saudi forces.
Nearly 10,000 people - two-thirds of them civilians - have been killed and 55,000 others injured in the fighting, according to the United Nations.
A U.S. military spokeswoman said USA forces were not involved in Thursday's air strike.
The war in Yemen has left more than 10,000 dead since 2015, sparking what the United Nations says is the world's worst humanitarian crisis.