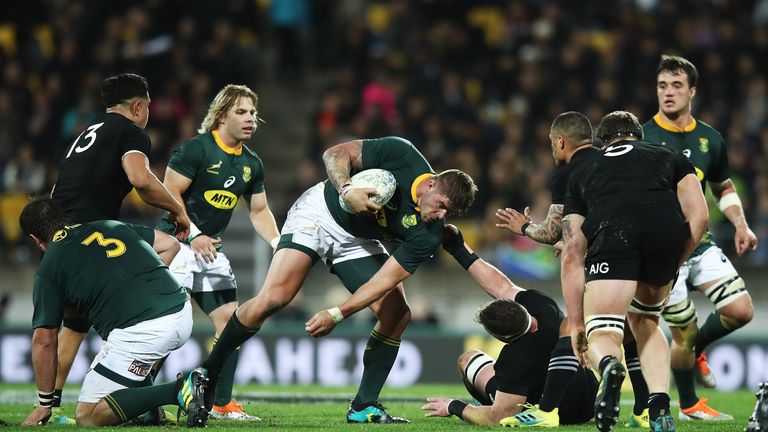 If South Africa had been awarded a penalty, they would have had a chance to kick for victory from the tightest of angles. All the data shows that, ' Jones said.
"What we've got to do is make sure we play like England, do everything we can to maximise our game, look at areas where New Zealand are weak and see if we can find a way to expose those weaknesses", he told BBC Sport.
Australian referee Angus Gardner came under heavy criticism after he didn't award South Africa a penalty for what looked like a unsafe and no arms tackle by Farrell on Esterhuizen in the 84th minute of the match.
"I've got no idea what can happen", the Australian added.
World Rugby has confirmed that there was no citing arising from the match, clearing Farrell to prepare for the All Blacks' visit to Twickenham on Saturday.
"I don't understand this guys".
After looking at the replay, officials ruled that Farrell had made enough of an effort to wrap an arm round his opponent to make the tackle legal - leaving the England No.10 punching the air in delight. We lost a few games but we played tough today and we won. As you know he injured his ankle.
"I just think the game is getting more intense".
Former Ireland captain Brian O'Driscoll said the referee got the decision "spot on" while former Australia lock Justin Harrison said "just because you don't wrap doesn't mean it's a shoulder charge, when laws of physics mean it's a bounce effect".
Shields was born in Masterton to English parents and played for Hurricanes before moving to Wasps and tasting Test rugby with England.
New Zealand then started this year with a 3-0 series sweep of France, scoring eight in the first Test in Auckland and seven in the last in Dunedin, and, despite a wobbly showing in Wellington in between, they still managed to cross on four occasions in that one.