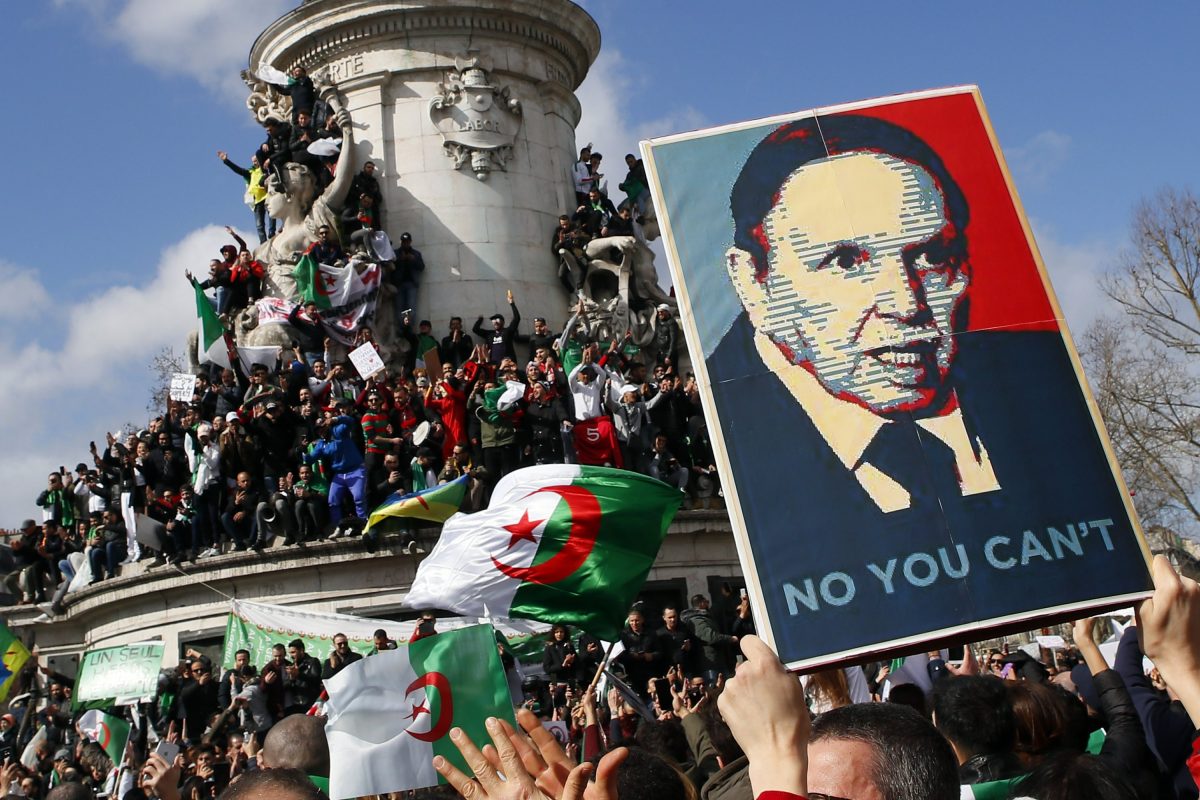 Half a dozen police vans were parked around the Place de la Grande Poste, which has been the epicentre of protests demanding the 82-year-old leader step down.
Algeria's president of two decades abandoned his bid for a fifth term Monday following unprecedented protests over his fitness for office, but his simultaneous postponement of an election set for next month had critics anxious he intends to hold on to power.
Algerian President Abdelaziz Bouteflika (right) says he won't seek re-election following weeks of mass demonstrations against his tenure.
Bouteflika ousted his prime minister as a gesture to protesters, but replaced him with a loyalist, Noureddine Bedoui, who took office Tuesday in a ceremony in which he pledged to "work tirelessly to live up to" Bouteflika's trust.
Algerians are now expressing concerns that Bouteflika's decision might be a trick to avoid further pressure and tension.
"We were waiting for the Algerian power to find a ruse to stay in place", said North Africa analyst Khadija Mohsen-Finan of the French Institute for global and Strategic Affairs, suggesting this is exactly what happened.
"No to manipulation, let's be vigilant".
"It's one small battle won", said Yasmine Bouchene, of the collective Les Jeunes Engagés (Activist Youth).
The Algerian leader, at the helm of the country since 1999, also announced on Monday that the April elections would be postponed and that a new constitution would be put to a referendum - but there has been no word as to when either would be held.
A conference, which does not yet have a set date, will aim to oversee the country's political transition, draft a new constitution and set the date for elections.
Bouteflika, whose rare public appearances since he suffered a stroke in 2013 have been in a wheelchair, returned to Algeria on Sunday after spending two weeks at a hospital in Switzerland.
On Sunday, thousands took to the streets of the capital carrying the Algerian flag and chanting: "Bouteflika, there will be no fifth term". More demonstrations involving a broader swath of the population are scheduled Thursday and Friday, in what might amount to a key test of whether the protest movement will prevail.
"There will be no fifth term", Mr Bouteflika was quoted as saying in a statement.
Liberte, another French-language daily, spoke of a "sham" and said that Bouteflika was seeking to deceive the people again.
Thousands of Algerians shared the same concerns that the decision is just a way to allow Bouteflika to stay in power for an indefinite period.
The global reaction was comparably upbeat, as French President Emmanuel Macron proclaimed the beginning of a new chapter in Algerian history, provided the transition period has a "reasonable duration".
The Liberte daily denounced a "sham" while El Khabar newspaper said Bouteflika wanted "to remain president without elections". Bouteflika is shown here meeting with Algeria's army chief, Ahmed Gaid Salah in Algiers, in a video grab from footage broadcast by Algeria's Canal Algérie network.